We started the week working on a secret mission for Father's Day.
In Mathematics, we practised our counting on skills in addition on the Smartboard. We then used all of our skills when solving number problems, including doubling, sharing, halving, counting on and counting back.
In the afternoon, we loved listening to the story of 'Mister Seahorse' and finding out how Daddy Seahorse took great care of Mummy's eggs! We decided to make our own seahorses using collage and paint. They looked beautiful!
On Tuesday in Busy Fingers, we enjoyed making our own paper doll inspired by 'The Paper Dolls' by Julia Donaldson. We can't wait to see them hanging up in the classroom soon!
Mrs Bishop and Mrs Kendall have been inspired by some art work carried out by Form III with Mrs Rigby; Eric Carle style butterflies! They thought we were so artistic that we could make our own butterflies. We took time to paint beautiful rainbows to turn into our own colourful butterflies next week.
In Literacy, we loved watching 'Mister Seahorse' come to life on the Smartboard.
https://www.youtube.com/watch?v=fag8yv3AN5s
We then had a go at thinking of something Mr Seahorse might say to the other fish in the sea. We worked independently and everyone tried hard to write a sentence, remembering capital letters, finger spaces and a full stop!
In Mathematics, we were focusing on the days and enjoyed playing the wooden claves along to 'Mother Hen's Days of the Week' song on YouTube. Have a watch at home on
https://www.youtube.com/watch?v=mXMofxtDPUQ
We listened to the brilliant story of 'Happy Birthday, Winnie' by Valerie Thomas and Korky Paul. Winnie the Witch did different things to get ready for her party on different days. We worked in pairs to try to put the days of the week into the correct order for Winnie.
In the afternoon, we enjoyed finishing our seahorses. Some of us spent time building construction models and even made our own Bug Hotel!
Wednesday was a very busy day! We went swimming at Rothamsted Swimming Pool in the morning. Afterwards we enjoyed a little quiet time watching 'The Very Hungry Caterpillar' on the Smartboard and sponge painted a background for our seahorses.
In the afternoon, we hopped onto a coach and headed to Palace Theatre in Watford to watch 'The Very Hungry Caterpillar and other stories'. We loved seeing all of the amazing puppets come to life and joined in with all of the stories. We think Eric Carle is a very clever man!
What a wonderful start to the day on Thursday! To celebrate the upcoming Father's Day on Sunday, we invited all of our Daddies into school for a breakfast and story telling session. We enjoyed sharing croissants and orange juice and then had some time to share some Daddy themed stories. We then watched a re telling of Mister Seahorse and gave our Daddies our Father's Day cards.
In Literacy, we started to look at a new author, Quentin Blake. We read a story called 'Angelica Sprocket's Pockets'. It was all about a lady who had an overcoat with lots and lots of pockets! You wouldn't believe the things she kept in them! A pink and green elephant, a cheese grater and umbrellas to name a few!  We were then given a paper pocket to decorate the front of. We used stripes, spots and all sorts of lovely patterns to cover the pocket. Inside the pocket we drew some items we thought of ourselves and used our phonic knowledge to write labels for them. Some of our ideas included butterflies, sprinkle doughnuts and toast and jam!
In Maths, we made some repeating patterns with various objects. As a class we spotted the patterns that Mrs Kendall made with different toys and then continued them. We then had a bowl of coloured pegs to share with a partner and took it in turns to make and copy repeating patterns.
In the afternoon, we tried our hand at some sewing! We sewed some binca together with some wool and a plastic needle to make a pocket for Angelica Sprocket! We tried really hard to do this independently and our teachers were so proud of our efforts! Some of us found this trickier than others but we got there in the end!
While some of us were sewing with the adults, the rest of us had some ChIL time playing with the doll's house, in the role play area and doing some free drawing. What a busy time!
On Friday we had our handwriting session.  We focused on the letters c and o. We all found this quite easy! So we did lots of practise and perfected our letter formation of lots of the other letters we have previously learnt.
After playtime we read another Quentin Blake story, 'Mrs Armitage on Wheels'. Then we took our own bikes and scooters outside! We had a lovely time showing our skills to our teachers. We then used stop watches to time each other and see how long it took to do a length of the tennis court.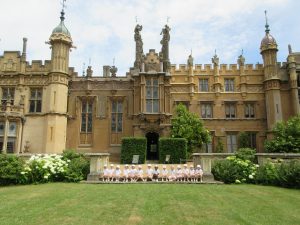 In the afternoon we had PE and then a Mindfulness session to wind down.
What a busy week!
Have a lovely weekend and see you all on Monday.